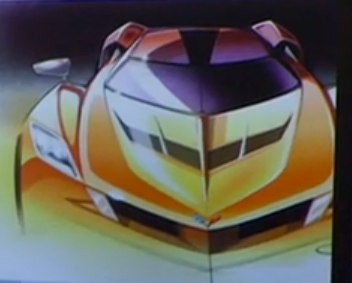 On the latest episode of Velocity's Americarna, host Ray Evernham was given a tour of GM's design facilities by Global Vice President of Design, Ed Welburn.
Lurking in the background was this design for what could possibly be the rumored mid-engine Corvette "Zora". Note the rear haunches which look like air intakes, as well as the short, vented front hood. Meanwhile, designer Christine Park showed off some sketches of a "Chevy Sports Car" which looks like it could be the new Camaro.
Obviously, this wasn't put in front of the camera by accident. Could either of these designs be close to future production models?
According to her Linkedin profile, Park started her current position as Lead Designer, Chevrolet Design Studio in August of last year, coming from years at Cadillac.
Image credit: Americarna